What we can do for you
Our Services
Our service covers an end-to-end solution for our clients:
We Specialize in: All aspects of structural steel, commercial and residential,
Mild steel and Stainless Metal work, earthquake strengthening and Cast in Plates/Welding of reinforcing.
Structural Steel
We have purpose built workshops with all our fabricators and welders fully qualified to the required AS/NZ standards for structural steel manufacturing. We can accommodate from modest home builds to the largest commercial/industrial projects throughout the whole of New Zealand.
Over the years Steel Earthquake strengthening work has also become a part of one of the specialized services we provide. We pride ourselves in using the latest technology and methods to be one of the leaders in this field.
Our purpose build workshops are fitted with overhead cranes to allow us to mobilize items through the shop more efficiently.
Some of our equipment includes: a specialised custom built 600-ton pre-cambering machine, cutting facilities and an automated CNC drilling machine to name a few.
WSF is committed to ensuring all staff are fully qualified and trained in their specific roles to enable them to carry out their roles safely and efficiently. We are also currently running an Apprenticeship programme to upskill new and existing staff members.
WSF was the first company in the Waikato area to achieve the AS/NZ ISO 3834 International Institute of Welding qualification and is also a certified fabricator under the SFC Quality Assurance Scheme (CC3 – Construction Category 3).
As part of WSF's Quality Assurance Plan and by using STRUMIS (Steel Fabrication Management Information Software), we provide full material traceability including mill certificates as well as fabrication, welding, surface treatment and site QA. This package is provided to the client on completion of a project.
We have two fully HERA qualified Welding Supervisors carrying out all welding supervision activities as set out in AS 2214:2004 which includes 100% in house visual scanning of all welding. We operate using an extensive range of pre-qualified and 3rd party approved welding procedures.
To complement our drawing and workshop teams we also provide fully trained & qualified site erection crews with our own equipment/cranes to enable the erection of fabricated structural steel in a safe and timely manner.
EQUIPMENT
Large detailing office. This is where the four detailers model drawings into 3D models on the detailing system.
50 metre x 20 metre shop floor with five built-in gantry cranes, able to process in excess of 400 tonnes of steel each month. We are able to handle the largest beams including Steltech Beams of any size.
Large outside yard and storage for the 18-tonne crane, 50-tonne yard crane, scissor hoists, T Lifts and fleet of WSF vehicles.
Turning your plans into reality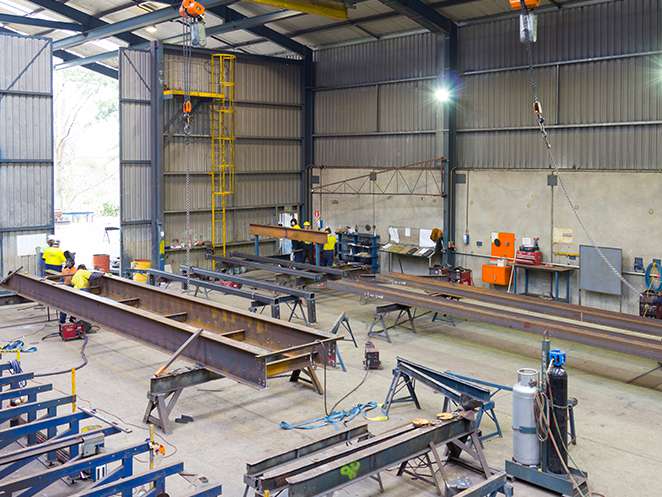 Lets talk steel!
Big or small, send us your plans now